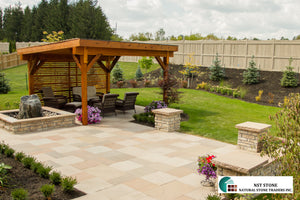 Natural Stone Traders Inc.
Pavers
Sale price Price Regular price
Paving enhances the look of any garden or outdoor space, transforming its aesthetic appeal. The natural colours and textures of pavers are very aesthetically pleasing. Pavers are used to built flat surfaces they are ideal for walkways, patios, driveways and pool decks.
Design
: 
We offer a wide variety of design options. Our stone Pavers come in many sizes, colors, and finishes providing many options for your project!
Durability: Pavers are one of the most durable materials available. You can rest assured that the beautiful landscapes you create with our natural stones will endure the test of time. Stone pavers are very popular and have been used to enhance the beauty and functionality of landscapes for thousand of years. 

We carry an extensive range of natural paving in Sandstone, Granite & Limestone, in a variety of colours to choose from like: NST Slate Grey, NST Lavender, NST Dove Grey, NST Jet Black, NST Raven Black, NST Dark Ebony & more. We offer a wide variety of products to enhance the look of your dream home.
Our Natural Pavers are available in different sizes please see the chart below: 
Finishes: Our standard natural paving comes in 4 side sawn, top natural & bottom calibrated.  Apart from this there are many finishes which we can supply, for example all 6 sides sawn, tumbled, sand blasted, flamed, leather, brush etc...
*Combo and patio packs are also available
*Tolerance: 2-5 MM (DEPENDING ON THE THICKNESS OF THE STONE)
Pavers are available in slate grey, lavender, brown, dove grey, imperial black, mint, kota black, silver valley, flamed, antique black, algonquin brown, jet black, salt & pepper, sand blasted etc.
Visit our full gallery