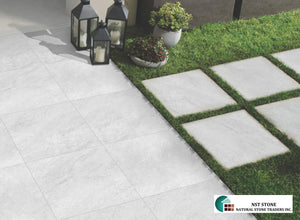 Natural Stone Traders Inc.
Porcelain 20 MM Pavers
Sale price Price Regular price
NEW LAUNCH!
PLEASE CALL 647-622-5205 FOR PRODUCT INFO , INSTALLATION SUGGESSION AND SAMPLES 

Porcelain 20 MM Paver is another way to add beauty to an interior or exterior space.  It is commonly used to cover floors and walls. We are introducing 20 MM Pavers for Landscaping. 
It is highly resistant to the elements of the outdoors, ensuring it's beauty for years to come. Porcelain pavers are a strong and a high quality paving finish.  
Available in multi colored tones, Natural Stone Trader's 20 mm porcelain pavers for outdoor spaces will add 
beautiful character and charm to any patio. Some styles features a slip-resistant texture. Porcelain pavers make a luxurious choice for any pool, garden, walk ways, and many more landscaping designs. They are the perfect choice for outdoors, as well as indoors.
* WE HIGHLY RECOMEND USING NST SPACERS WHILE INSTALLATION AND NST PORCELAIN BLADES FOR GREAT RESULTS *


PATTERNS
For more color, sizes, and finishes please
contact us
(must meet minimum quantities) Porcelain Pavers are available in these sizes:
600X900/600X600/600X295/295X295
20 MM Thickness
Porcelain Pavers are available in Individual Packs of 600X600 mm
and 600X295 mm & also in Patio Packs (which includes all 3 Sizes)
FEW COLORS AT GLANCE , WE CARRY 14 COLORS IN OUTDOOR PORCELAIN 
IVORY BEACH SAND
BASALT
OTHER COLORS AVAILABLE (VISIT OUR NEW PORCELAIN CATALOG LINK ON HOME PAGE & TOP OF THIS PORCELAIN PAGE TO VIEW ALL AVAILABLE COLORS )