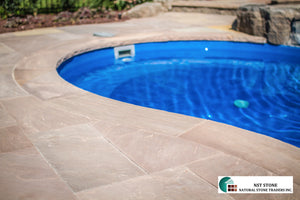 Natural Stone Traders Inc.
Copings
Sale price Price Regular price

< Click to View Larger

We at Natural Stones Traders Inc. know the importance of adding the right coping stones to your walling project. 
Natural Coping Stones not only protect free-standing walls from weather damage, but also add an aesthetic appeal to your walls and a distinct touch to your pool or spa area.
If you are looking for a WOW factor & wish to add character to your outdoors or pool area, we will do our best with our Natural Stone Copings for a completely individual look for your dream home. 
Please see the chart below for available sizes:
 FINISHES - APART FROM 3 SIDE MACHINE CUT AND ONE LONG EDGE H/C. IT IS ALSO AVAILABLE IN BULL NOSE, ALL SIDE MACHINE CUT & ALL SIDE HAND CUT ALSO.


Copings
 are available in slate grey, lavender, brown, dove grey, imperial black, mint, kota black, silver valley, flamed, antique black, algonquin brown, jet black, salt & pepper, sand blasted
Visit our full gallery