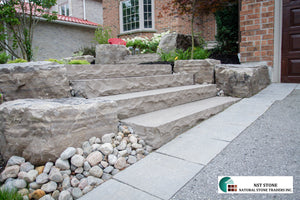 Natural Stone Traders Inc.
Pebbles & Stones Artifacts
Sale price Price Regular price
< Click to View Larger
Pebbles are mainly used to add some glamour alongside your pathways or gardens.  Pebbles are often used to structure and landscape a garden and give it that professional finish. All decorative stones provide a beautiful aesthetic appeal.
Pebbles also are functional in the garden to create rock gardens, to cover landscaping fabric, to prevent weeds from growing, and to keep moisture in the soil for your flower beds.
Pebbles are also useful in creating a beautiful interlock design and are also use for water drainage. We are certain we have the right product for you to choose from, that will ensure a beautiful finish to your landscaping needs.
*GARDEN BENCHES, FOUNTAINS, AND PLANTERS ARE AVAILABLE ON ORDER ONLY
To view our different styles, textures, and colors 
Visit our full gallery